AT PROBE...WE ONLY MAKE WETSUITS!
With over 20 years of wetsuit design expertise, we are totally dedicated to designing and producing only the most technically advanced, innovative and highest quality wetsuits available in the world today - Absolutely no compromises!
In 2001, Probe Wetsuits revolutionized diving with a 'World First' innovation!
"THE 100% SUPER-STRETCH DIVING WETSUIT".
An innovation that continues to be the industry benchmark, earning our reputation as -
"THE WORLD LEADERS IN DIVE WETSUIT TECHNOLOGY & INNOVATION"
Heading into the future, Probe Wetsuits continue to lead the way with our revolutionary iDRY, iFLEX and FROGSKINS lines.
Innovative wetsuit designs that will take you're diving experience to a whole new level of personal comfort, protection & performance.
WHO ARE PROBE WETSUITS?
Established in 2001, Probe Wetsuits is a 100% Australian owned and operated wetsuit company and combines the talents and passions of two lifelong friends.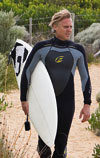 Dave Griffiths – A highly regarded wetsuit designer who for 14 years lead the global wetsuit design team at Ripcurl Wetsuits. During this time, Dave played a major role in the evolution of the surfing wetsuit. For the past 8 years Dave has been working full-time at Probe, and has continued to keep the innovations coming with the release of our revolutionary "Quick-Drying" iDRY and Frogskins lines.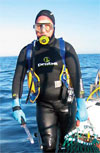 David Forbes – a career diver with 28 years experience in commercial and research diving, and also a keen recreational diver. David spends countless hours in the water product testing and providing essential feedback on all of our wetsuits. When he's not in the water he can be found working hard at Probe in a hands-on role providing you with a friendly, professional level of customer service.